Formed in 1969, Steeleye Span is one of the most enduring British bands.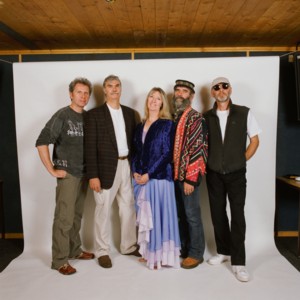 Steeleye Span Mk 14 Ken, Peter, Maddy, Liam & Rick
They work in the genre of Folk-rock which they helped define. They reached a peak of commercial success in the 70s with All Around my Hat and Gaudete gaining chart recognition.
But commercial ambitions are not their primary concern.
Although it's always good to have success, it is the music they have chosen to concentrate on that most engages them, which is British traditional material, expanded and developed by their own writing.
"

Steeleye Span is like a bus. It goes along, and people get on and get off it. Sometimes the bus goes along the route you want to go, and sometimes it turns off, so you get off."

Maddy Prior
They have continued to work over the years with strong support from a core fan base, delivering many albums and CDs across the years. They are still as energetic in the promotion of their chosen path and tour frequently.
They toured the UK in 2006 with a new album called Bloody Men.